So I can't stand it anymore and have to start documenting my up coming build. Zokes,frame,swingarm,yx160 are all in the mail in transit to me now.
Its going to be a slow build I think because I have moved to suburbia and no longer have access to a machine shop/welding shop like I used to.
I don't believe anything I'm doing will be ground break. I'm late enough to the game others have paved the way for me.
Here Is a picture of the bike about where I started at. I took it all apart and parted out everything I'm not using.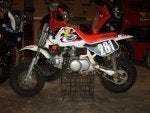 I kept the bars, gastank, seat, plastic, frame, bolts, chain, and sprockets basically not much of anything.
Parts that left/are leaving. I am also selling a 2004 Xtreme CR107 for a little of the money for this build.
So far the parts I have coming.
Minimoto +3cm frame
Minimoto +10cm swingarm
Minimoto Rim supports
Zokes 35mm front end Used
* changed to TBparts Z50 kit for now
YX160 new style used
* YX149cc honda style engine going in now
Going to run z50 rims so I will have to sort out the wide triples and front disc like has been done in the past (STR z50 build). The Zokes I bought are old style and I plan to upgrade then with an aftermarket kit. I might also have the forks shortened 1/2-1" to keep the bike small. I plan to mock the bike up and pick my fork length and shock length then, I can order a set of custom built shocks for it.
I have been reverse engineering the stock z50 hubs I use (older style big drums) so that after I have my forks in and triple clamps that work I can redesign the hub for a disc and turn out a billet hub. The Minimoto disc front hub is ~$90 and I dont like it.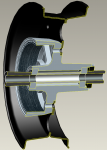 I hope it all comes together.
I'm going to get a solid roller together then move to the engine build which will also be a lot of fun.