Discussion Starter
·
#21
·
So good new Head and billet parts have cleared customs no delivery date determined yet.
Big bore kit is still on back order due to rings out of stock till feb. If anyone else is attempting this right now the 63mm Kits are in stock.
Got my kill switch installed no key set up on my bike. It works like a charm. Hope this E-start saves my kicker gear/countershaft
So a few weeks back i made a mistake and ordered a 2 valve older model 58.5mm Big bore kit bright side i was able to use it for some research. If i ever wanted to build a 2 valve motor i believe i could use this setup as well only paid $60 for it so no big deal haha. I am hoping the gaskets and ect are the same on my other cylinder. but we will see.
Cylinder and piston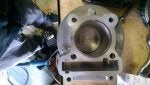 TTR base gasket on that cylinder you can see the cam chain passage is different
Zuma base gasket on TTR bottom end. Oil passage blocked. This is why i plan to use the TTR cylinder with the Zuma Sleeve