Just posted if anyone has any interest.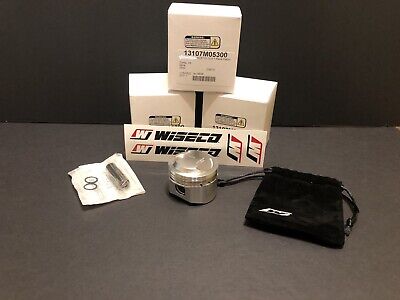 This piston was engendered by Wiseco. The piston is intended for use with a KLX / DRZ 110 and utilizes the factory bore of 53mm and even uses OEM Kawasaki rings, so there is no headache sourcing rings like with the big bore kits.
Hey everyone, I wanted to see if anyone had any interest in getting a hi-comp piston for their bike. I ran one back in the early 2000's and loved it. Since then I sold that bike and purchased another to build. When looking for the piston I called Wiseco and was told they never made the piston. I then provided them PN# 9712M05300 and was informed they did in fact make the piston, but it was a special order and only 12 were made. Unfortunately none were available and I would need to special order more. The minimum order was 12 at $188.10 each, I elected to go with 16 pistons at a discounted rate of $157.30 each. After seven months of waiting I got my pistons and managed to get an additional discount on them. I was thinking of letting some go for $125.00 each and just wanted to see if there was any interest out there.
The pistons are made by Wiseco 53mm OEM Kawasaki 110 bore and have a 13.8 to 1 compression ratio. The pistons use factory OEM Kawasaki rings that can be ordered through any local or online Kawasaki retailer.
In the past I have run 91 octane and 107 octane with this piston and never had any problems.