Discussion Starter
•
#1
•
FULL MOD ROLLER + Tons O' Parts - Zokes, BBR, Buy 2 Get 1
Hey guys and gals I have a mod roller that I am selling along with a bunch of other mod parts. Check them out and please e-mail me for addtional pics. Located in San Diego, CA.
Chris -
[email protected]
PayPal: same as e-mail
PRICES REDUCED 10/4....
REDUCED AGAIN 10/14
......E-MAIL OFFERS TO
[email protected]
MetalTek LT +4 Swing-Arm -
$195
BBR Rear Wheel -
$295
BBR CR Style Throttle (does not fit stock 110 throttle cable, came with brake upgrade kit)-
$20
Rad 12x2.15 28 hole rim black NEW -
$80
TwoBros LT +4 Swing-Arm -
SOLD
RaceTech Shock LT (valved for 175) -
SOLD
KX65 rear wheel w/Moose 44T Sprocket (rides fine but rim has some wobble) -
SOLD
old style Zokes in good shape (new seals installed), forks guards included -
SOLD
STR KX Brake Adapters A-Style - $SOLD
Frame with CA/title - SOLD
Pro Taper Bars - SOLD
28mm D-Slide w/filter - SOLD
28mm D-Slide - SOLD
STR brake brackets and MC w/line (just need rear caliper) - SOLD
BBR Perimeter Brake Lever - SOLD
Peg Braket w/T3 Monster pegs - SOLD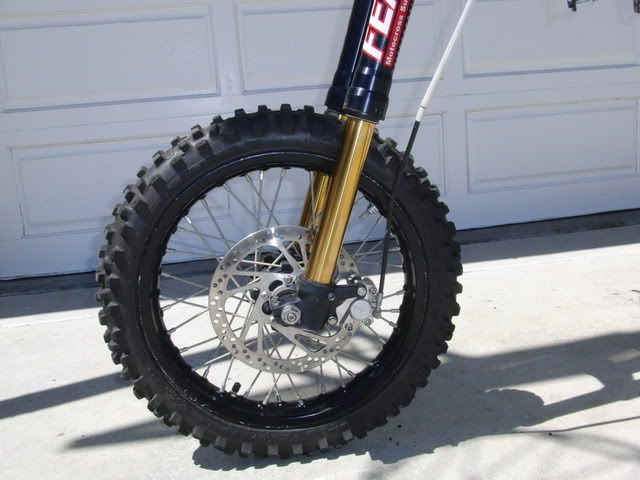 PARTS - All Prices are Shipped Lower 48 - PayPal only!!
New RaceTech LT Shock (valved for 175lbs.) - SOLD
KX65 Braking Wave Rotor (used) - SOLD
STR KX65 Brake upgrade for zokes - SOLD
(2) used Vortex KX65 40T Sprockets - SOLD
FMF 4.1 (dent in header pipe) - SOLD
Lightened Flywheel - SOLD
KX60 Front Forks: SOLD
KX65 Wheel: SOLD
Marzocchi front wheel: SOLD
10/12 Reeg Wheels from 50:SOLD