Guys,
I have been working hard lately on my never ending project. It is getting close and should be finished enough to finally go for a ride by the weekend. This site has been a great help in getting it done. Terry at Firepower has also been a really big help. I built this bike the way I wanted a mini to be and added things that I wanted on my Z50RR like speedo, Chrome fenders, side cover, Head light and tail light that never was on this year bike. I have been collecting parts for quite a while and tried to use as much Honda stuff as i could to keep it looking like a mini. I bought a bunch of junk bikes just to get the good parts from each that I needed for the build. The turning point was when I found a mint and I mean mint frame. I have over 140 pictures of the build and will post just a few here.
Here is the first pile of parts. The maroon bike I have had for quite a while and even though it looked pretty good the frame was wore out and the swingarm had about a 1/4 inch of play where the bolt goes through the frame. I did use the tank, seat, throttle assembly and exhaust that I modified for this bike. That is a new front fork assembly with disc brakes and a new Piranha 140 from Terry an Firepower and a 1972 headlight and speedo.
I can not tell you guys how nice this frame was, it did not even have scuff marks on the bottom of it.
Here is one of the things that I wanted changed. I do not like the number plates on the 79 and later minis and I don't like the skinny seat, Skinny tank and monkey bars on the 78 and older so I made a bike that I like. I bought a junk 76 frame and cut the side cover brackets off very carefully and welded them on my frame.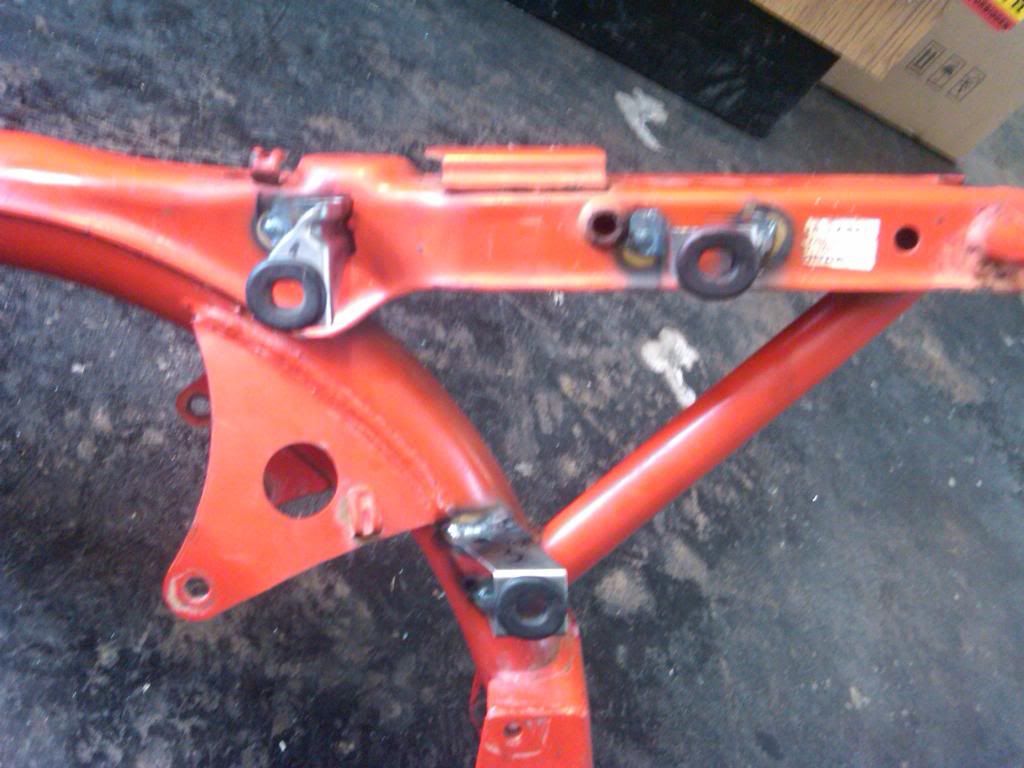 Here is the mock up of tank seat and side cover. I basically did this to see if I was still going to like it. I did and think it looks great.
Engine and front end fits with no problems.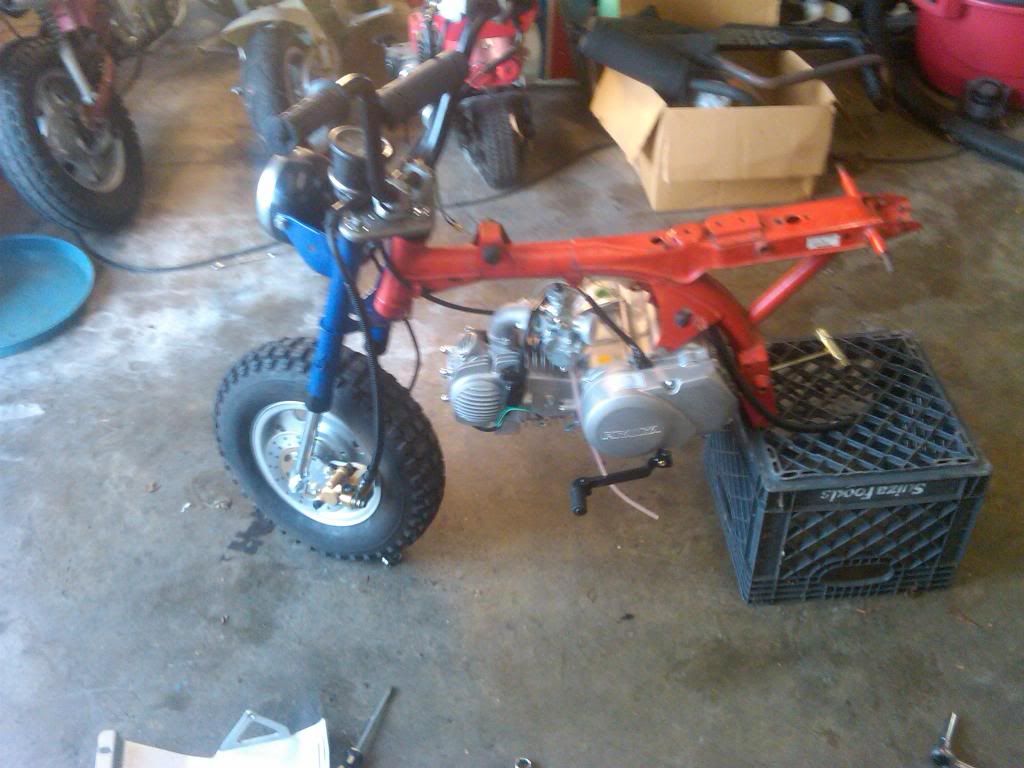 This next picture is when I started mocking everything up to see if it all was gonna fit.
Almost looks like a complete bike.
Ok, time to take everything apart and start getting it ready for paint and powdercoating. I cut the reflector tabs and big bracket off the middle of the forks to make them look more like the originals.
I stripped all the parts and frame down to the bare metal. This was not a lot of fun, but well worth it. I brought it all to be powdercoated and it came out great these pics do not do this stuff any justice as the black is so shiny and clean it is ridiculous. This should last a really long time.
OK, for the first time in a long time I started putting it together for good. First thing I installed was the new aluminum swingarm.
Front end and headlight next.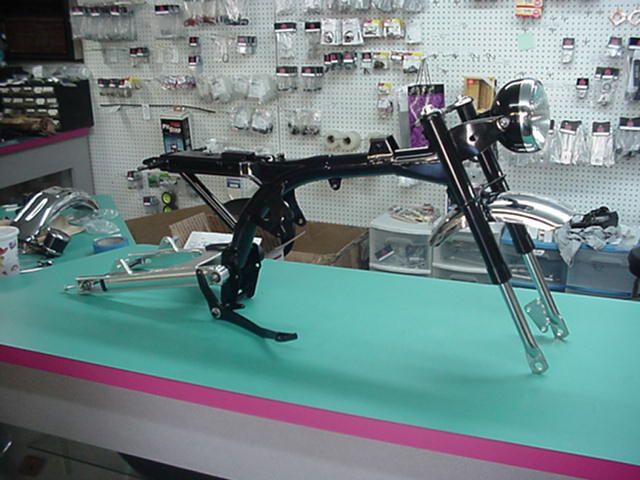 Speedo.
New Rim and Tire.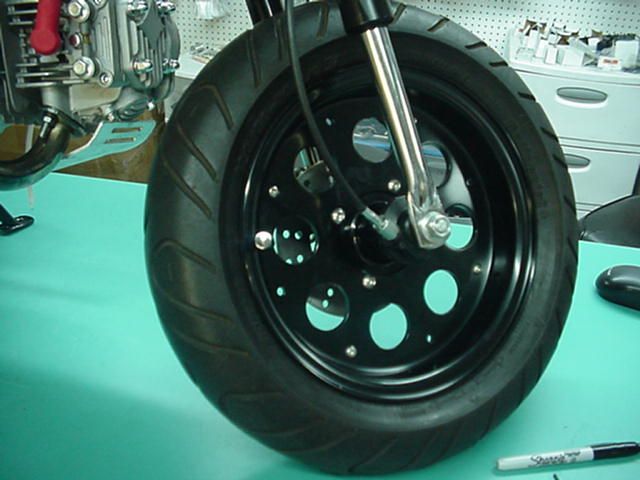 Front end together.
Back Wheel and brake assembly.
Engine Installed.
Taillight mounted and billet foot pegs.
Exhaust and Seat .
Almost done just waiting on some more parts. Everything should be here tomorrow: Longer Chrome Shocks, billet handle bar risers, tank and side cover back from painter.
Starting on the tank.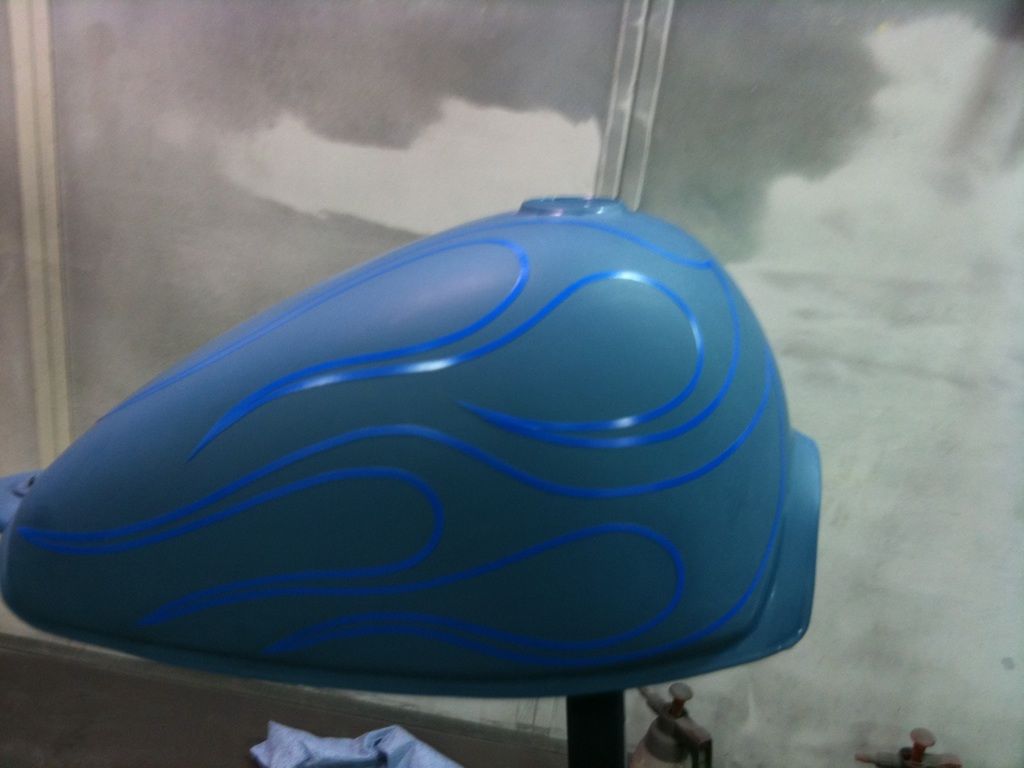 Next Step.
Almost done first coat of clear.
Thats all for now. I got the original 1979 handlebars back from powdercoater today and will install it tomorrow if the risers and shocks get here on time. Hopefully the tank and sidecover will be dry enough to mount up, if not Friday will be the day. I will post more pics if it all gets here.
Hope you guys like it so far.
CC