This project originally started in 2011 here,
Faster | Scooter Doc Forum
I'm going to try and repost here too.
Here's my first post from 2011 and where it started. Ported the intake and de burred the header flange and double shimmed the valves, it made a notable difference!
So i finally did it. all those upgrades they advertise suck and rob power. The bigger carb is kind of pointless and as far as the CDI we couldn't give it a fair chance as supposedly they only work if your scooter is top notch, witch it wasn't running the hotter cam. The cheap Chinese quality control doesn't ensure the gear is pressed on right. Thats right the timing on these cams is probably wrong i lost power a really noticeable amount till i put the stock cam back in. (a whole 10 mph slower)
So here is what went down, raised the the intake roof and deleted the valve guide then put 2 extra valve spring shims in and set the valve lash to 1 1/2 and 2 1/2 thousands.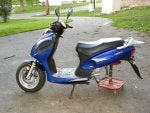 On a GOOD down hill i can hit 50 mph and you can feel and hear the engine picking up RPMs, up to 9k after the CVT maxes out. Next up a 60cc jug and some other mods. may even delete all the vacuum BS on the carb and get a nice little 20 some mm carb that doesn't run a slide and is just the butterfly. For the cam a friend thinks he can set the cam timing correctly after he finds the lobe center and then we will give it another try. anyone know of any good cams before we try to fix the cheap after market one? remember this is a 50cc and i'm not going for a drop in 125 or 150 or anything.

... and then my old post several months from then..


Well i've been busy and not busy and it's been a while. I'm fairly sure i'm going to buy a 44mm 60cc jug and piston kit it's about 50 usd.
So far whats been done is are
ported intake
ported exhaust flange
exhaust header was wrapped with asbestos cloth or some other old school cloth knowing my dad
clipped the slider spring on the carb
adjusted the carb.
deleted the vacuum system accept for the petcock. as far as i can remember at least.
clipped and modified the spark plug
opened up the CVT cover
replaced drive belt
finally got a horn
xenon bulb
new throttle cable
new valve stem on rear tire
replaced locks, ignition, and keys
fixed trunk latch
Some just boring every day use others economical power adders or reliability/efficiency in the case of the spark plug mod.
I also may have found a 60cc dome top piston that may fit, i may have to buy just to see but, some collaboration with some scooters gurus may also give me an idea if it will even fit
http://planetminis.com/community/topic/170626-sport-65/page__gopid__1737367#entry1737367
I got to thinking about all the GY6s and how they used to be honda design and how the same can be said with the whole monkey bike scene and i thought, "wait a minute" and sure enough both Honda and Chinese engines tend to run 13mm wrist pins.
I used to have an s65 engine witch i sold. Now all i have left are the rings to it and some odds and ends but, no piston.
The Honda Sport 65 was a 44mm bore with a 13mm wrist pin and 41.4mm stroke. Sound familiar?
So maybe if the deck height and ring height and dome height are alright then it's possible it may fit then you would have to deal with the valve relief but, since i know some people that may not be a big deal.
I also tried the scrappy dogs sport A9 cams it's either poor product or i got defective item, the amount of hours installing and removing it on several occasions and double checking for installation error with very skilled mechanics, it's definitely the cam. one of the skill mechanics said the cam gear has to be off the way it runs, witch it runs like the timing chain is off but that's not the case.
He says based on the stock cams gear he can repress the A9s gear, i tried emailing scrappy dog, they said i was stuck with it because it's been so long since ordered it, and to make the best of it. The mechanic said that sport bike cams (he works on a lot of sport bikes) don't even come with a cam gear to prevent this problem. so we may repress the cam gear if and when there may not be any room for any more lift if i use a dome top piston if it even fits.
most likely what i see happening is a decked head, and the A9 cam with repressed gear and maybe a partial port of the exhaust side of the head.